Conference dinner

The conference dinner will be held at Lachlans Old Government House within Parramatta Park. The venue is a 15-minute walk from both Parramatta train station and the Novotel Parramatta, and a 15-minute drive from the Western Sydney University Parramatta campus. Shuttle buses will be provided between these locations.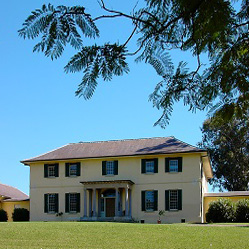 The venue is of great historical significance, and it is Australia's oldest public building. The township of Parramatta was established in 1790 as the early settlers sought farmland suitable to sustain crops for the young colony. The residence was used by all early Governors, the last of which was Fitzroy, who left the colony in 1855. It was Governor Macquarie who carried out the most substantive work on the property, and the house as you see it today is largely as completed by Governor Macquarie. The land on which this property is situated is Darug land, home to the Burramatta tribe. There is evidence of Aboriginal occupation of the site including middens and scars on trees from removing bark for canoes.
Included in the evening will be a reception in the courtyard on arrival with a range of canapés, alternating dinner service in the marquee, and a selection of desserts. The evening will also include the famous SST spectrogram reading competition and the announcement of the student and ECR awards.
Special dietary requirements can be catered for, but please provide this information at the time of registration so we can let caterers know.